US Mobile App Stores Sets $75.9 million Revenue Record on Black Friday 2018
This Black Friday, more people than ever reached for their mobile devices.
As per a new Sensor Tower report, the U.S. App Store and Google Play combined for $75.9 million in revenue on Black Friday, setting a single day record for both stores. In total, the App Store finished at $52 million and Google Play at $23.9 million.
Outside the US, global spending contributed another $117.3 million in App Store revenue, which is an 18% increase from 2017. Both the US and worldwide Black Friday trends are detailed in the chart below: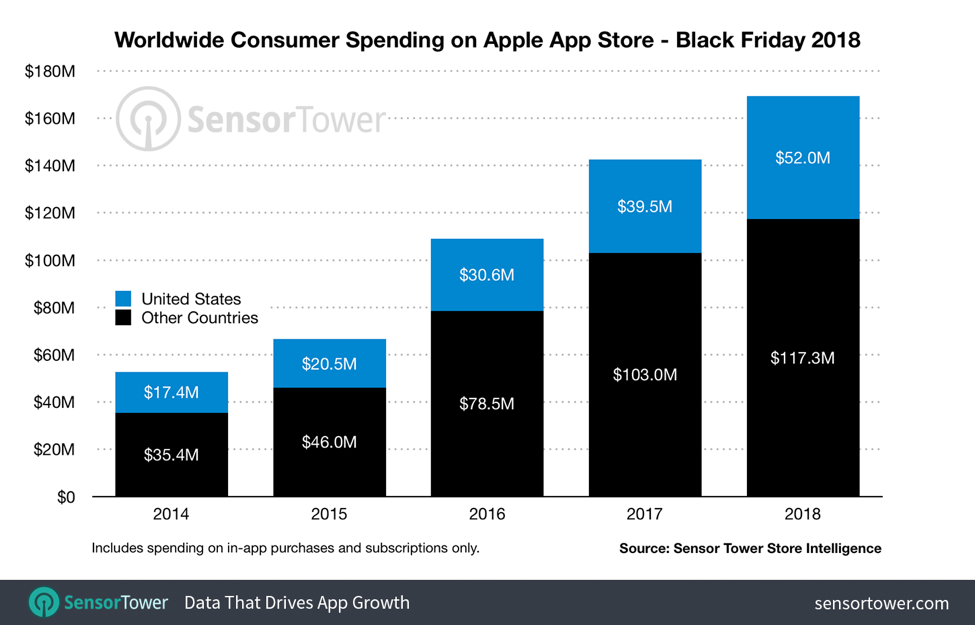 Overall, mobile gaming accounted for a bulk of App Store spending at 68% of total revenue. This was an over 60% jump from last Black Friday.
Also, Sports and Food & Drink were other categories that saw significant gains, increasing by 49% and 34%, respectively. They were led by entertainment- and leisure-based apps such as ESPN and NYT Cooking.
Finally, the report found that Black Friday's 42.7% week-to-week growth beat out Cyber Monday's 20% growth, further highlighting this Black Friday's significance.
Want to learn more about mobile application development? Make sure to contact our Appetizer Mobile New York City team today!