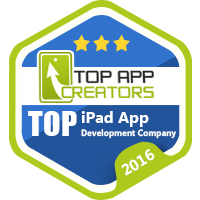 As we are quickly progressing towards a mobile first world, many companies are looking to open new channels of communication with both their clients and their employees. However, with staggering statistics showing that one third of enterprise apps fail to meet business objectives, companies have every right to be cautious when choosing a developer.
We hope this list will help you out, whether you are looking to develop an app for your enterprise, outsource certain parts of your app development process, or whether you have an idea that could become a commercially successful app. This list contains some of the top iPad app developers in the world who provide both development and maintenance services. Whether you are a part of a start-up looking to disrupt the tablet marketplace, or part of a large scale enterprise looking to improve your app's UX, this list is for you.
Here are our Top 10 iPad Application Development Companies of October 2016:
Appetizer Mobile is an award winning digital agency offering mobile application development, consulting and marketing. We support all major platforms, including Apple iOS (iPhone, iPad, Watch, Apple TV), Google Android (Phones and Tablets), HTML5, Unity and Unreal Gaming Engines, Wearables, IOT, Virtual Reality and Augmented Reality devices. We provide services for clients to generate new revenue channels and maximize their ROI.
Read the entire article at: http://www.topappcreators.com/top-10-ipad-application-development-companies-october-2016/