With the cord-cutting trend growing in recent years, subscription video streaming apps have served to benefit significantly from it. According to a recent report from Sensor Tower, the top 10 subscription video on demand (SVOD) apps increased their annual revenue by 62% in 2018, jumping from $781 million in 2017 to $1.27 billion in 2018. The growth SVOD apps is even more staggering when you look back to 2016 where revenue was nearly 3 times less than it was in 2018.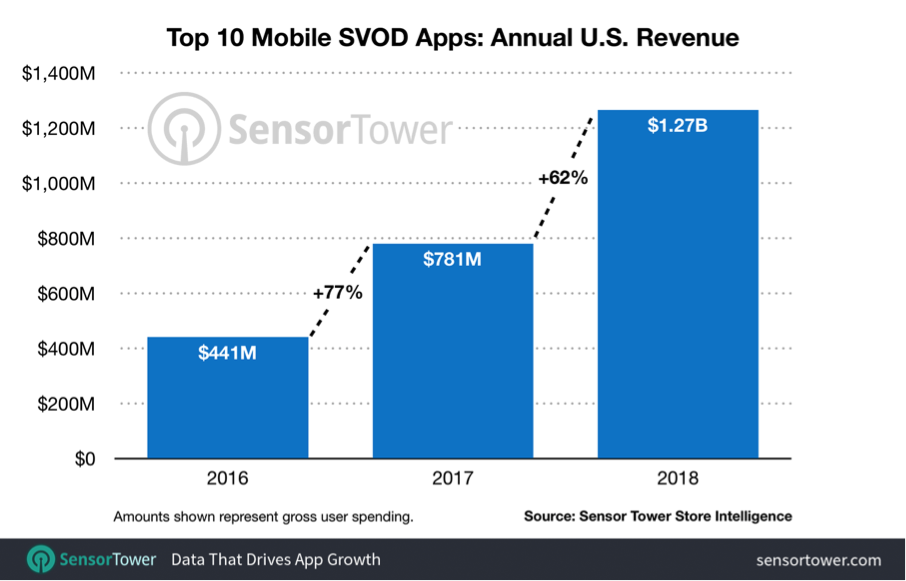 Netflix topped the SVOD app U.S. revenue charts for the second straight year, pulling in $529 million and an 81% growth rate. This was followed by YouTube who posted $223 million in revenue and the second highest growth rate at 114%.
YouTube's stellar 2018 performance allowed it to leapfrog 2016's top-grossing SVOD app, HBO NOW, which posted a disappointing $166 million in revenue and a 12% decrease in earnings. With their hit show Game of Thrones coming to a close later this year, HBO NOW's future is starting to come into question especially given the growing list of streaming alternatives.
Two other SVOD apps that gained ground on HBO NOW were Hulu and YouTube TV, which pulled in $146 million and $59 million respectively. Despite still trailing HBO, Hulu grew its revenue by 68% and YouTube TV by a staggering 419%.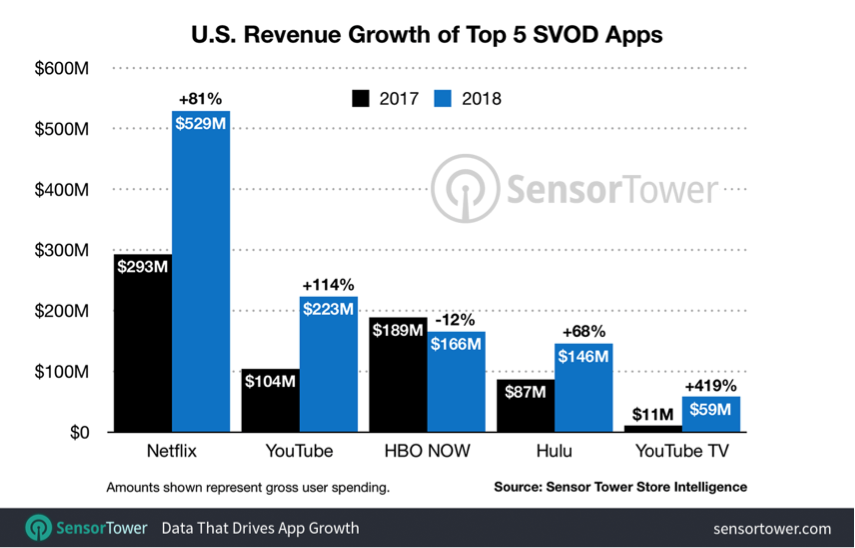 Overall, SVOD apps' revenue growth rate of 62% outpaced all non-gaming apps combined. Also, their $1.27 billion in revenue accounted for 22% of the total non-gaming app revenue in the U.S.
To learn more about mobile app development, design, and marketing, make sure to contact our New York City Appetizer Mobile team today!